Henry George Liddell was the Dean of Christ Church at the Oxford
University from 1856 to 1892. 
<Door to Henry Liddell and his family's private residence with the cathedral garden where his 3 daughters, Lorina, Edith and Alice often played.
Charles Dodgson, who became a lecturer in mathematics at the Oxford University in the same year Henry Liddell was appointed dean, met the 3 Liddell girls in the garden when he was photographing the cathedral.
Charles Dodgson's study at Christ Church, Oxford.>
Photograph of Alice, Lorina, and Edith Liddell sitting in the Deanery Garden taken by <Charles Dodgson.
The parsonage where Charles Dodgson was born on January 27th 1832 at Daresbury in Cheshire. He was the eldest son and third child (out of eleven) of an Anglican clergyman Charles and Frances Dodgson (nee Lutwidge).
Charles Dodgson first records meeting Alice Liddell in his diary on April 25, 1856, when he visited the deanery garden to take a picture of the cathedral. He soon turned his lens on the Liddell children who, he wrote, were "not patient sitters." In the years that followed, Dodgson took scores of images of the Liddell children.
Lorina, Edith and Alice Liddell visited
Charles Dodgson regularly, and he formed a strong friendship with them but his relation with Mrs. Liddell and the Dean was not very heartily.
When Alice Liddell first met 
Charles Dodgson, she was almost four years old. Alice thought he was a pest because he wanted her to sit for a picture and she could never keep still. 
It wasn't till Alice was about four and a half years old that Charles Dodgson managed to get the first sharp photograph of her.>
<Charles Dodgson and Alice Liddell taking a stroll in Oxford. 
By the latter part of 1856 Mrs. Liddell became concerned about Charles Dodgson's relationship with the Liddell girls as more time had passed the fondness that Charles Dodgson had for Alice (11 years old) was inappropriate. Mrs. Liddell told Charles Dodgson not to take anymore photographs of her children and limited his access to them. 
When Mr. and Mrs. Liddell took their winter vacation abroad and left the children in the care of their governess, Miss Prickett, she let Charles Dodgson visit the Liddell children as often as he liked and he continued to do so after the parents returned.
4th July 1862—Charles Dodgson, his friend, the
 Reverend Robinson Duckworth, and the three girls, Lorina, Ethel and Alice Liddell, went on a rowing trip to have a picnic. 
Robinson helped row the 3 Liddell girls on the river while in the boat Charles Dodgson began his story of 
Alice's Adventures in Wonderland.
Long before he published Alice's Adventures in Wonderland, Charles Dodgson took up
photography as a hobby. Unlike most of the other amateurs in his circle, he persevered to become a dedicated, prolific, and remarkably gifted photographer, creating approximately 3,000 images during his twenty-five years of photographic activity.
Charles Dodgson's inspiration.
Ornately
framed mirror in the Liddell's house.
House called Penmorfa was built in 1862 for Henry Liddell.
This shop may have been the inspiration for the shop kept by sheep in Alice's Adventures in Wonderland.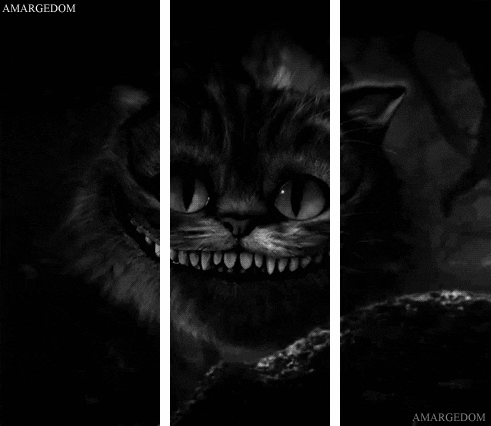 During the period of publishing Alice's Adventures in Wonderland, Mr. and Mrs. Liddell banned Charles Dodgson from ever visiting the Liddell children again after another boat trip in June 1863 Charles Dodgson
had with the Liddell girls which Charles Dodgson wrote in his diary
a pleasant expedition with a very pleasant conclusion. Relations were never restored.  Below image of the last page of the original manuscript by Charles Dodgson. 
There was no record of why the rift occurred, since the Liddells never openly spoke of it, and the single page in Charles Dodgson's diary recording 27–29 June 1863 (which seems to cover the period in which it began) was missing. 
Charles Dodgson abruptly ceased
photography in 1880.
Charles Dodgson was adamant in his preference for 
young girl subjects, always under the age of eleven, whom he preferred to photograph without their mothers present so they would appear more natural. He also disliked the Victorian practice of dressing children up like small adults, arguing that the natural form of a child was beautiful and did not need to be covered
up.
Anne and Frances Henderson, daughters of Patrick Henderson, fellow, chaplain tutor and proctor at Wadham College taken on 18 July 1879 at Christ Church, Oxford.
Typical pattern for Charles Dodgson to stop seeing them after they reached puberty. 
In discussing the possibility of photographing one 8-year-old girl unclothed, Dodgson wrote to her mother: "It is a chance not to be lost, to get a few good attitudes of Annie's lovely form and face, as by next year she may (though I much hope won't) fancy herself too old to be a 'daughter of Eve.' " Likewise, Dodgson secured the Liddells' permission before taking his now-famous portrait of Alice at age 6, posing as a beggar child in a tattered off-the-shoulder dress; the family kept a hand-colored copy of it in a morocco leather-and-velvet case.
From the 
Letters of Lewis Carroll to his Child–Friends: Some children have a most disagreeable way of getting grown-up: I hope you won't do anything of that sort before we meet again. 
Photographs taken by Charles Dodgson.
Virtually all of
Charles Dodgson's 38 documented figure studies (nudes) and their negatives were destroyed by him or his Executor at his direction, and only
four extant images are known that had been given to the families of the subjects and then included in/surviving from family albums.
Description by Douglas-Fairhurst: Charles Dodgson had a routine. This is the province of his "child-friends," as he called them—young females, whom he encountered and corralled at every turn, especially on vacations or train trips.
Charles Dodgson would strike up a conversation with a family, bring out the games and puzzles he kept in his little black travelling bag, and follow up their meeting by sending the child a signed copy of an Alice book. The chumminess would proceed from
here. 
Lorina Liddell in the nude in a full-frontal pose, described in the documentary as an image that "no parent would ever have consented to," according to Martha Kearney. 
The
controversial photograph was found in a French museum, with a note on the frame attributing it Charles Dodgson.
Laurence Irving, a son of one of Dodgson's friends, summarized Oxford gossip from previous decades in dubbing Charles Dodgson a "greying satyr in sheep's clothing."
Charles Dodgson mentioned 
Jack the ripper in his private diary on 26 August 1891, when he records talking to "Dr. Dabbs" (an acquaintance of his on the Isle of Wight), about "his very ingenious theory about 
Jack the Ripper. 
Charles Dodgson's last photograph of
Alice.
Quote by Alice Liddell.