Rose Marie> Rosemary Kennedy
Rose Kennedy with, from left, Joseph Jr., Rosemary and Jack. Bettmann/Corbis/AP Images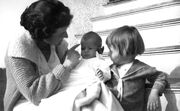 Rosemary as a baby with her mother Rose and older brother Joe – 1918


Rosemary, Joseph Jr and Jack.


Magnetic Electric: Rosemary Kennedy was underdeveloped mentally, but she was still highly functional and intelligent. The only difference was that it took her longer to learn and retain knowledge and old Joe didn't like that. 
Rose Kennedy sent Rosemary <to the Sacred Heart Convent in Elmhurst, Providence, Rhode Island, at age> 15.

From L-R: Baby Jean, Bobby, Pat, Eunice, Kick, Rosemary, Jack and Joe Jr.

Joe Jr., Jack, Rosemary, Kick, Eunice, Pat, Bobby, and Jean.
Kathleen "Kick" Kennedy and Rosemary Kennedy, at their 1938 presentation at Buckingham Palace <
Magnetic Electric: I do seem to remember that Joe didn't want her going out with boys even though she was interested in them because a). people would know she wasn't perfect (God forbid) she didn't quite get how to "date" or whatever.
Magnetic Electric: When she started getting (understandably) frustrated when the Kennedy's kept holding her to their stupidly high expectations, she lashed out because she couldn't live up to them.

In late 1941, >
Joe
arranged for the lobotomy, which required
Rosemary to be conscious during the operation, so the surgeon could track her mental state as he inserted a "quarter-inch-wide flexible spatula" into her cranium, turning and
scraping 

<

Magnetic Electric: Either way, Joe was and remains to be one of the biggest douchebags ever to walk the face of the Earth. I usually don't believe in the sins of the father stuff, but there's just no way his creepy behavior didn't tempt the universe just a bit.
Then institutionalized since 1941 because of failed>

 lobotomy.
Magnetic Electric: I do find it highly ironic that Joe Kennedy himself became physically incapacitated and dependent on others during his final years. All that pushing to get JFK into the White House and he didn't get to use of any of to his advantage. Guess it kinda proves God does have a sense of humor.
As a teen-ager who would be lobotomized just a few years later, Rosemary Kennedy chronicled a life of tea dances, dress fittings and trips to Europe in diaries that her mother ordered tossed out with the trash. 
But Rose Kennedy's personal secretary, Barbara Gibson <didn't listen. She hung on to the aging leather-bound journals and included them in a new book about her decade with the Kennedy clan.