was an American children's
author, editor, and philanthropist.
She was married to fellow
author Theodor Seuss Geisel, better known as
Dr. Seuss.
Helen Geisels and Dr. Seuss were close friends with Audrey and Grey  Dimonds.
One day they all went whale watching on a yacht. 
A heave of a wave threw

Audrey Dimonds

into Dr. Seuss's arms.
"He caught me and we looked at each other and the awareness was mutual.
You look away and you talk about inane things, but it would never be the
same.
Racist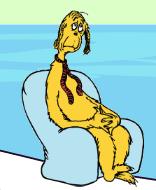 Bigot